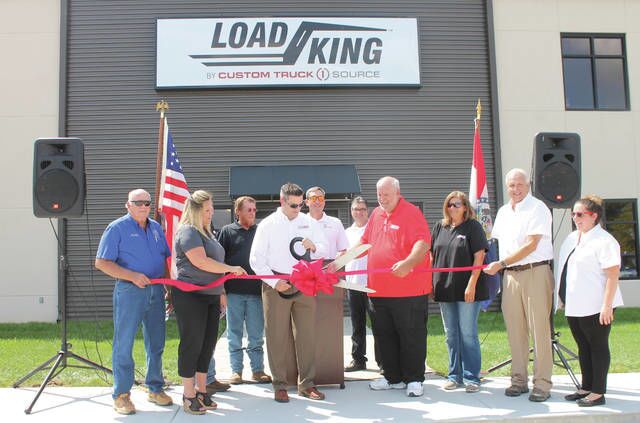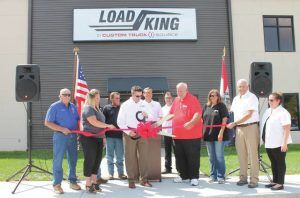 A local business showed off its new and larger location during the annual Sedalia Showcase hosted Thursday.
Each year during the Missouri State Fair, Economic Development Sedalia-Pettis County hosts Sedalia Showcase as a way to feature some of the best Missouri has to offer, including a local manufacturer. This year EDSPC chose to highlight Load King LLC, a subsidiary of Custom Truck One Source.
Custom Truck is a single-source provider of specialized truck and heavy equipment solutions. The company includes sales, rentals, aftermarket parts and service, equipment customization, remanufacturing, financing solutions, and asset disposal. The Sedalia location previously employed about 25 people and the expansion allowed for 25 new jobs, which have nearly been added.
Ben Link, Load King executive vice president, said during his remarks Thursday morning that Load King has created 150 new jobs in Missouri this year and is looking to continue to grow in the Show-Me State. He said the company employs about 1,400 total.
"We already had a great workforce and we're really looking forward to see what else we can do to grow," Link said. "We joked about 100 (more) jobs, but with good companies and good leadership, 100 jobs there's a clear line of sight. Load King since we bought it in 2015 they had a history of building trailers since 1956. … Since buying it we've introduced dump trucks, roofing coveyors, alumnium propane bodies and we continue to introduce new products and that's really going to feed our growth as our new products. We picked Sedalia to grow and really launch those new products from. We've got a good workforce here and I can see a clear path to growing."Custom Truck announced earlier this year it would be expanding its Sedalia operation, which was previously only located at 2900 Rissler Road. As of May, a new 28,000-square-foot location for manufacturing and office space was opened at 5105 Pelham Dr. in the Thompson Meadows Industrial Park. The expansion allowed Custom Truck to bring Load King, a new product, to Sedalia.
According to a news release, Load King has been producing heavy equipment solutions in Pettis County since 2008 under the Custom Fabrication and Equipment brand name. In February, Custom Fabrication was rebranded as Load King, the premier manufacturing arm of Custom Truck One Source.
During the ribbon cutting, the business was welcomed and thanked by Pettis County Western Commissioner Jim Marcum, Sedalia Mayor Pro-Tem Don Meier and state Rep. Dean Dohrman, R-La Monte.Rusty Kahrs, president of EDSPC, closed his remarks by commending the local manufacturing community for being so supportive.
"I look across here and I don't just see folks from Load King and Pettis County Economic Development and the city and the county. I see people from other plants and other plant managers and other folks that work in other companies," he said. "We don't have a competitive environment in Pettis County when it comes to success. I'm sure we're all competing for similar things, but when it comes to investments like this it humbles me and gives me encouragement for the future to see those of you who run other factories across the community show up and celebrate their success."