Jostens, parent company of local PrintLynx, has announced a company expansion and job growth for its Sedalia location.
The announcement was made Tuesday morning at 304 Curry Dr. in the Thompson Meadows Industrial Park in Sedalia, the future home of the new Jostens plant. PrintLynx, doing business as Jostens, has outgrown its current space at 3131 W. Main St. and will consolidate its production and fulfillment operations to the 75,000-square-foot Curry Drive facility.
During the announcement from Economic Development Sedalia-Pettis County and Gov. Mike Parson, Jostens CEO Chuck Mooty said the PrintLynx employees and the Sedalia workforce were a major factor in deciding to expand its Sedalia location. "Being able to leverage the incredible team that we have here, they've done an incredible job of growing our business and to invest in them is a reflection of their hard work and commitment," Mooty told the Democrat after the announcement. "It will, I'm sure, pay huge dividends for us as time goes on because I have great confidence in their ability to continue to grow the business."
He added that he has confidence in Plant Manager Heather Cantrell to help oversee the Sedalia expansion, which will allow the local plant to expand its production lines.
"If you've ever taken a company through an expansion, which this is my first, you know it takes a community like this," Cantrell said. "I look out (at the crowd) and I see friends, I see family, I see a lot of customers, I see vendors, I see suppliers, and every single one of us contributes to making this happen." Mooty said the Sedalia location primarily prints "small books," which are elementary and middle school yearbooks, as well as commercial printing for local and regional customers. It is also involved with Kinderkraft, Jostens' line of kindergarten graduation gowns, nationwide. Although its name has changed over the years, PrintLynx has been in Sedalia since 1984.
Jostens will move all of its small yearbook production to the Sedalia facility, doubling the output of the Sedalia plant.
"What this provides us is the ability to expand our capabilities and to expand our footprint and do more than we have as far as other types of business and printing capabilities," Mooty told the Democrat. "This will be a hub for us through time to be able to grow in other ways. This is important for us to have now as far as the space and technology and the capabilities to be able to grow within our printing world, whether that's commercially, yearbook production, other new technologies that are available for our business." The expansion also includes the addition of 20 full-time jobs and 60 seasonal jobs at the Sedalia plant, and a $1.85 million capital investment, according to EDSPC President Rusty Kahrs. PrintLynx already has 60 full-time employees.
According to EDSPC Executive Director Jessica Craig, the new location is expected to open this fall. She said Ditzfeld Transfer, which owns the new building, is working with Jostens to accommodate the building renovations and will lease the property to Jostens.
"A lot of times in the state we highlight larger companies, and we strive to get those companies to the state of Missouri, but the heart and soul of Missouri is companies just like this right here," Parson said. "Small businesses, that's who we are. When you think of people like this, this is what drives the economy every day, hometown folks working here." After his remarks, Parson signed House Bill 1415, which adds a new section relating to professional development for teachers to Chapter 168. The new section states that any hours spent in a local business externship shall count as contact hours of professional development.
"Local business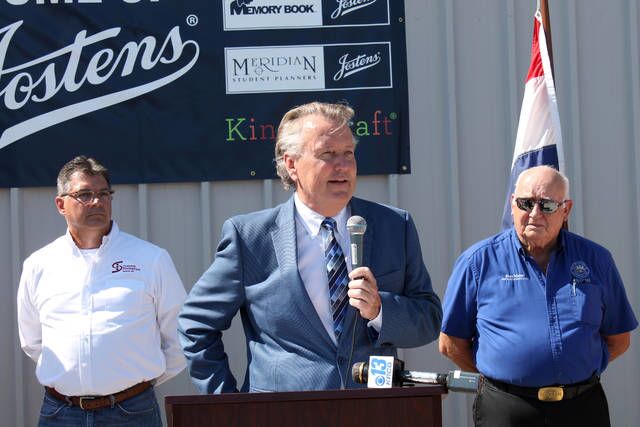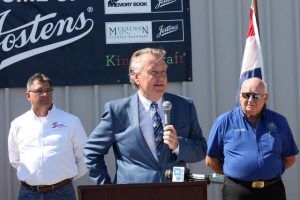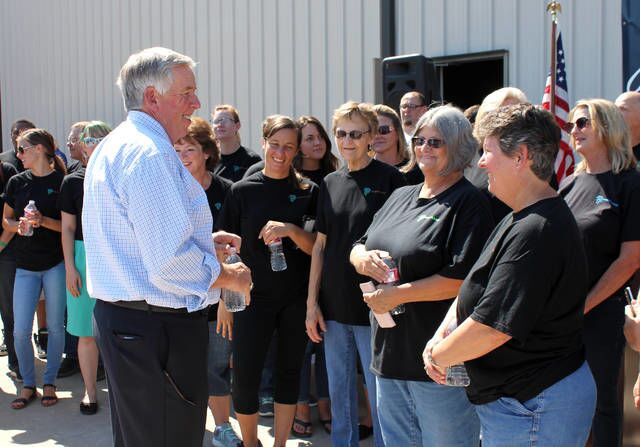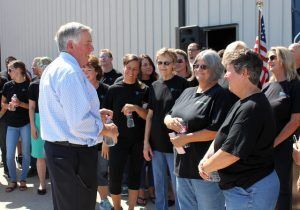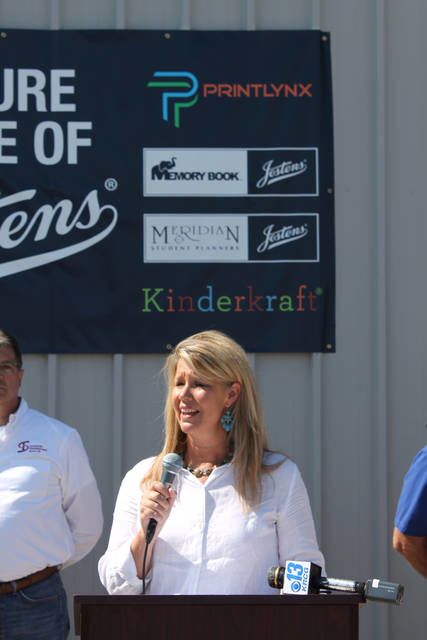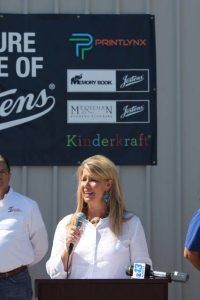 " is defined as an experience in which a teacher, supervised by their school or school district, gains practical experience at a business in the local community in which the teacher is employed through observation and interaction with employers and employees who are working on issues related to subjects taught by the teacher.