A Comprehensive Array of Medical Care
We offer every possible health care service and we do so with pride. We recognize the growing need for information to help you make better choices about your health and the well being of your family. Regardless of whether you live in the Sedalia community or in a nearby town, health care is available at all times.
Bothwell Regional Health Center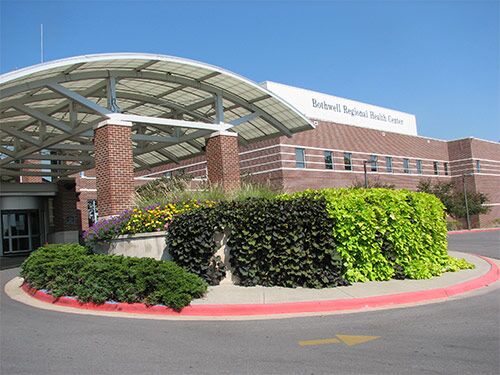 Bothwell Regional Health Center, a 145-bed hospital in Sedalia, has served west-central Missouri since 1930. With a staff of more than 780 employees and 100 physicians, it provides a full range of diagnostic, medical and surgical services. These services include cancer and cardiovascular care, emergency services, orthopedics, obstetrics, skilled nursing, critical care, diagnostic imaging, medical equipment, and community outreach and education.
Accredited by The Joint Commission, Bothwell meets the exacting standards of multiple regulatory agencies. It has been designated as a Center of Excellence for Oncology Nursing and been named one of America's Most Wired Hospitals by Hospitals and Health Networks for three years.
With the opening of the Bothwell Healing Arts Center in west Sedalia, Bothwell expanded its clinic operations to include primary care in Sedalia and more specialty care. These services include:
Bothwell Family Health, a primary care practice for the whole family.
Bothwell Internal Medicine with internal medicine specialists who receive extra training for treating adult conditions and managing more complex diagnosis. The practice also includes a rheumatologist who treats arthritis and other related conditions.
Bothwell Ear, Nose & Throat, whose physician treats allergies, infections and other disorders affecting the head and neck.
Bothwell OB/GYN Associates is a full-service obstetrics and gynecology practice with board-certified obstetricians, gynecologists, a nurse practitioner and nurse midwives. It provides complete women's health care services.
Bothwell Diagnostic Center, also on Sedalia's west side, was designed for easy access and comfortable, private testing. The center offers open MRI, CT scans, x-ray, digital mammography, bone density scans, and laboratory services.
Bothwell Sleep Centers in Sedalia and Warsaw provide testing, diagnosis and treatment of sleep disorders for adults and children. The Sedalia center has a special room for pediatric studies, and both centers are accredited by the American Academy of Sleep Medicine.
Bothwell Wound Healing Center, located adjacent to the hospital, helps heal chronic wounds with extensive treatments that include hyperbaric oxygen.
Bothwell Medical Equipment supplies adaptive equipment such as canes, lift chairs, oxygen equipment and motorized scooters to make life easier.
For more information on Bothwell and its comprehensive health and wellness services, call (660) 826-8833 or visit www.brhc.org.
The Pettis County Family Support Division (Formerly Division of Family Services)
The Pettis County Family Support Division offers a variety of social and physical health programs including the Medicaid assistance plan. The DFS office can also provide a list of state-licensed home child care providers. For more information, call (660) 530-5900 or visit dss.mo.gov.
Pettis County Health Center
Pettis County Health Center provides a variety of health maintenance and disease prevention programs to the entire community. Examples are: Women's Wellness, (including Show-Me Healthy Women), Communicable disease follow-ups (including STD's), maternal and child health services, the WIC program, environmental health services, and public health emergency response planning. Speakers are available to provide programs and health education on a variety of health-related topics. You may also obtain certified copies of births and deaths that occurred in Missouri. For more information call (660) 827-1130 or visit www.pettiscountyhealthcenter.com.
Katy Trail Community Health (KTCH)
Katy Trail Community Health (KTCH) is a Federally Qualified Community Health Center (FQHC) in Sedalia and Warsaw. It offers quality and compassionate healthcare for all. KTCH provides primary health, oral health, and behavioral health services to residents of Pettis County and the surrounding area. Eligible patients can apply for discounted fees and the center offers discounts for most medications as well as discounts on lab services for patients who are uninsured. Translation services are available for patients with limited English capabilities.
Katy Trail Community Health has a staff of two physicians, a physician assistant, two nurse practitioners, and nurses and support staff – each dedicated to providing the community with high quality, comprehensive health care. The board of directors consists of community leaders who use KTCH as their family doctor.
KTCH accepts most insurance plans, Medicaid and MC+ plans, and Medicare. It is open Monday through Friday, with extended hours on Wednesday evenings. For more information about Katy Trail Community Health or to volunteer, call (660) 826-4774 or visit www.katytrailcommunityhealth.org.