Distance in miles to Major Markets
Atlanta
Chicago
Denver
Kansas City
Los Angeles
Miami
New Orleans
New York
St. Louis
730
470
700
85
1612
1408
700
1170
190
Sedalia is located on a direct line between St. Louis and Kansas City. The city is easily accessible by highway, railway and charter air service. The nearest barge facility is only 45 miles north, on the Missouri River.
Within a 500-mile radius of Sedalia are:
42% of the nation's manufacturing shipments
43% of the nation's wholesale trade
43% of the U.S. population
Source: Missouri Department of Economic Development
Air Service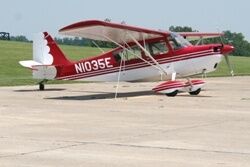 SEDALIA REGIONAL AIRPORT handles nearly 20,000 aircraft operations yearly. Its 5,500-foot lighted concrete runway handles aircraft up to 48,000 pounds gross weight. A second crosswind runway is 3,600 feet long. The 700-acre airport is home to more than 20 private and business aircraft. Available services include: jet fuel, transportation and mechanic.
Kansas City International Airport (MCI) Kansas City, Missouri located a little over one hour from Sedalia, Missouri, USA. MCI is consistently ranked in the top-five airports in the North America Airport Satisfaction Study. Its largest carrier is Southwest Airlines with over 68 daily flights on weekdays, followed by Delta Airlines, currently service 10 destinations nonstop. Other National and International carriers include: Air Canada Express, Alaska Airlines, American Airlines, American Eagle, Delta Connection, Frontier Airlines, SeaPort Airlines, Spirit Airlines, United Airlines, United Express, US Airways, and US Airways Express.
DORAVIATION is a full service maintenance facility since 1985. Available services include: Airframe, plant repairs and annual inspections.
Highway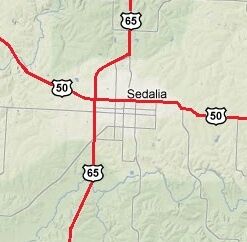 Sedalia is located at the intersection of US Highway 50 (East-West) and 65 (North-South), and is 16 miles South of US Interstate 70. Highway 50 directly connects Sedalia with Kansas City and Jefferson City, MO, while Highway 65 connects Sedalia with Springfield, MO.
Bus/Taxi Service
The Sedalia Transit Authority operates a bus service in the city which makes an hourly route of the city's major stops, such as the hospital, schools, churches, and businesses. The city also hosts a taxi service.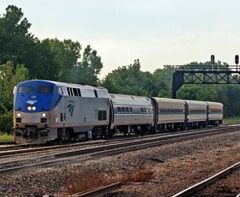 Motor Freight
Fifteen interstate and intra-state trucking firms have regular routes through Sedalia; five have terminals.
Railway
The main line of Union Pacific Railroad links Sedalia to major markets to the east and west. Piggyback to both coasts is available from the Kansas City terminal.
City
Atlanta
Chicago
Denver
Kansas City
Los Angeles
Miami
New Orleans
New York
St. Louis
Days by Railroad
3
2
2
Overnight
4
4
3
4
Overnight
Days by Motor
3-4
2
3-4
Overnight
6
5-6
3-4
5
Overnight
Freight Days by Truckload
2
1
1
Overnight
3
3
2
2
Overnight